Having already filmed numerous scenes for his "hobby", the caramel-complected brotha from Maryland with the seductive gaze has taken his sexcapades from his bedroom to his internet websites and has become a favorite among the amateur crowd.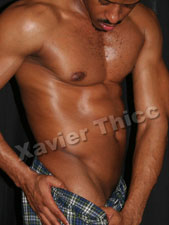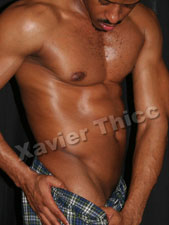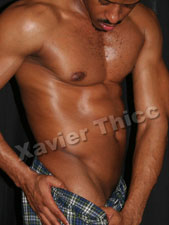 "I never counted on fans," he says, "although I kind of knew that there were some people who thought what I did was different."
What he did – and promises to continue doing – is produce amateur XXX erotica with a flava unseen at the local video store or on any adult websites. It's no secret that most porn copped in a video store is filmed for the male gaze; although a woman is featured on the box covers, it's the man's orgasm that gives the scene purpose. She sucks his dick, takes him vaginally and anally in all his fantasy positions, titty fucks him or whatever his particular fetishes – all so he can nutt.
In Xavier's alternate erotic world, the ladies read from a different script. "I saw something different in him when he was with a girlfriend of ours," says Sixxx, his best friend, his first camera-girl, and the person who came up with the idea to put Xavier on film. "I thought that he made love to her and I liked the way it looked. You don't see that much, especially in movies, and I would have liked to find some movies like that. So, I decided to make my own." Xavier agrees that it was Sixxx's influence that led him to take his brand of loving to the camera and then to the masses.
"I set out to showcase a more sensual and affectionate style of movie making that gets the same explicit shots but projects a feel of sensuality and love making instead of the feel of sleazy sex," he explains.
What is crucial to that sensual, affectionate style? Watching any clip on Xavier's site, viewers notice his willingness to engage freely in foreplay, which often includes passionate kissing, touching, and even talking. Also, no foreplay seems complete for Xavier without a trip downtown. He admits that his preference is giving head, not receiving it, and he's known to use fingers, tongue, and toys (sometimes all three) to stimulate that feeling of love-making. However, nothing but nothing can substitute for "the real thing." Xavier's skills consistently bring forth one of "amateur-exposed.com"'s trademarks – "real female orgasms."
Is it real or is it Memorex?
The camera doesn't lie; Xavier's women give more cream than the local Starbucks. Xavier gets them there, repeatedly, with what has easily become his trademark: the "signature stroke".
"My 'stroke' come naturally to me, no practice involved. It's how I have always moved; even before I knew it. When I first saw myself on film, I thought, 'Damn, that looks pretty cool,'" Xavier reveals with a laugh .
Evidently for the ladies, it feels pretty cool, too. In one video, Xavier was asked by one of his beauties (after he stroked her until she was lying prone on her back, nearly breathless) if he was an exotic dancer. He told her that he wasn't, and then asked what motivated her question. Her reply: "You move like one!"
The "stroke" is also one of the things responsible for the multiple orgasms that give Xavier Thicc's movies their personality. These orgasms are not the faked variety so common on professional shoots, but rather the authentic kind born of one man's intensity and sexual self-lessness. "Nothing is scripted and nothing is ever played up for the cameras.", says Xavier. "I give the same intensity, affection, and passion to my co-stars off camera as I do on camera. That type of sex is what turns me on the most."
"It's not that I am all about pleasing and not being pleased. It's moreso that pleasing is what gives me my sexual pleasure. I chase female orgasms because invoking them gives me a sense of pleasure within myself," Xavier explains. "I like to see a female in ecstasy. It turns me on probably as much as the next man is turned on by a blow job."
Judging from the number of times his video ladies orgasm and ejaculate, Xavier has been very turned on throughout his amateur shoots!
"I meet my female co-stars like any normal man meets his friends and lovers" he explains. "These girls are friends of mine. I get to know them." One trait, however, that all the ladies share is that they are all true "amateurs", which is precisely what Xavier desires. Working with Xavier must be one hell of an introduction to porn!
"Ya think?" Xavier asks, laughingly. "Most women have said that being with me sexually was like nothing they've ever experienced before, and every woman I've ever filmed with was exhausted after the shoot. With first-timers, most of the amazement is because they just aren't used to seeing themselves from all of those angles when they make love. Seeing the dripping and/or creaming orgasm just adds to that, I think."